---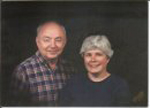 September 6, 2009
RESIDENCE - I have lived in Minnesota all my life, except for 4 years in the Navy, (Pensacola, Fl - Argentia, Newfoundland - Iceland - Brunswick, Ga) . We do love it here and have family and friends that we enjoy. We do some travel but it is always great to get back to Minnesota. We bought and live in a fixer upper in Clear Lake on the Mississippi and enjoy watching the river flow by as well as doing way to many home projects. Even though our children and grandchildren live in the Twin City area they still are to busy to come out here enough, so we make many trips to the city and still belong to Bethlehem Lutheran Church on 41st and Lyndale So.
SCHOOLING -
Augsburg College (BA Major Math, Minor Chemistry)
Naval Officer School, Pensacola FL
The general ups and downs of life (While my other schooling was not easy - this has been the toughest - however I still look forward to the future, and what it holds)
CAREERS -
Naval Officer (Full Lieutenant at the time of departure)(flew as an airborne combat information officer)
Software Programmer (Control Data)
Taught Math at Nokomis Jr. High (1 year 1970)
Director of Information Systems - Augsburg Fortress Publishers
Real Estate Sales
Software Analyst - West Publishing
Small business owner
FAMILY -
Wife - Marie (Central 61, Augsburg 65) We were married Dec 18th, 1965
3 Children (Gretchen (Todd), Joanna (Erik), Hans Jr. (Jen))
5 Grandchildren with one granddaughter on the way. 1 step granddaughter
Our daughter Gretchen and her husband Todd lost a daughter (our granddaughter) to a brain tumor in 1997, at the young age of 22 months.
PETS - we enjoy other peoples pets
HOBBIES AND INTERESTS - Family (celebrating special occasions - birthdays, holidays, school programs, and their sports events), reading (The Heart of Darkness - Joseph Conrad) , stock market (I like Warren Buffets - buy and hold strategy - but it sometimes hurts) , small business (see below) , we like to travel as much as possible, we enjoy most everyone we meet and look forward to everyday opportunities and challenges.
RETIRED? - I retired from corporate America in 2002. I still keep very busy with our small business interests which we have had since 1969. To many to mention here. We currently have a small business that we have owned for over 30 years and a new one for just two years. We also own rental property(duplex, fourplex (Edina, Bloomington) )which keeps us very busy.