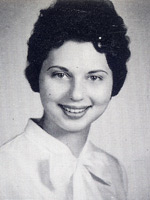 From 1959 Centralian
"Cute, sweet, and always neat." Honor Roll, P.T.S.A., Spanish Club.
---
Sommer (Johnson), Karin Ekvall Age 77, of Minneapolis, passed away peacefully on February 8, 2019.
A proud graduate of Minneapolis Central High School and the University of Minnesota, Karin will always be remembered for her loving kindness and concern for others, including co-founding Students for Integration at the university in 1959, many years spent as a political and community volunteer, and her devoted care of family and friends. Preceded in death by her father, Chester Johnson, and her stepfather, Wilbur Costello. Survived by her mother, Mildred Solem; brothers, Daniel and Edward Johnson (Mary LeBlanc); daughters, Linnea and Lucia Sommer (Steve Kurtz); nephew, Erik Johnson; niece, Sarah LeBlanc; several great-nieces and nephews, and a host of other loving family and friends. A celebration of her life will be held this summer. For information: KarinSommerMemorial@gmail.com

Published on March 3, 2019

Karin Ekvall Johnson Sommer Memorial
Menorah Plaza Community Room,
4925 Minnetonka Boulevard, Saint Louis Park, MN 55416
1:30 PM, Wednesday June 5th, 2019

A reception with light buffet (sandwiches, humous and veggies, fruit, cookies/bars, and beverages) will be served after the service.

DIRECTIONS: The building is set back and hard to see from Minnetonka Boulevard, but the entrance to the driveway is on the South side of the boulevard, just West of Ottawa Avenue and directly across from Princeton Avenue, between a bus shelter and the former Park Theater Place.

PARKING & BUILDING ACCESS: There is a parking lot in the front right (West side) of the building, and in the back of the building. To access the lot in the back, turn left before you reach the turnaround and follow the driveway down the hill to the back lot. In the unlikely event that the lots are full, overflow parking is available on Princeton and adjacent side streets. The building is a security building but we will have someone stationed at the door to let people in. The Community Room is to the left when you enter through the front door. Turn left, walk past the reception desk, and turn left again at the mailboxes. The entrance to the Community Room is on your right and will be easy to spot. Hope to see you there.